Unfortunately, pet food recalls are a regular fact of life these days. From mold and bacteria (like Salmonella), to toxic substances and actual objects in the food (like metal pieces), the list of contaminants is nearly endless. And while some may just cause an upset stomach, others may be life threatening!
There are three good web sites for current pet food recall information (as well as our list below): The FDA Recalls and Withdrawals site and Pet Food Industry.com, and Dogfoodadvisor.com (and all three allow you to sign up for recall alerts).
Find current dog food recall and cat food recall and withdrawal information posted from the FDA and petfoodindustry.com are below (the petfoodindustry.com list is an addition to the FDA list). We will try to keep this page updated regularly, but please let us know if you hear of anything not listed!
Current Pet Food Recalls and Withdrawals
Hill's Prescription Diet and Science Diet Dog Food Recall
January 31, 2019 — Hill's Pet Nutrition is voluntarily recalling select canned dog food products due to potentially elevated levels of vitamin D.
Vitamin D, when consumed at very high levels, can lead to serious health issues in dogs including kidney dysfunction.
What's Recalled?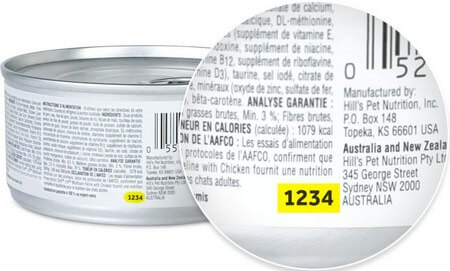 The following products and lot numbers are affected by the recall.
Difficulty reading the image below? Click here to view the actual FDA statement.
About Excessive Levels of Vitamin D
While vitamin D is an essential nutrient for dogs, ingestion of elevated levels can lead to potential health issues depending on the level of vitamin D and the length of exposure.
Dogs may exhibit symptoms such as vomiting, loss of appetite, increased thirst, increased urination, excessive drooling, and weight loss.
Pet parents with dogs who have consumed any of the products listed and are exhibiting any of these signs should contact their veterinarian.
In most cases, complete recovery is expected after discontinuation of feeding.
What to Do?
Pet parents who purchased the product with the specific lot/date codes listed should discontinue feeding and dispose those products immediately.
To have discarded products replaced at no cost or for further information…
Please contact Hill's Pet Nutrition, Inc. at 800-445-5777 Monday-Friday 9 AM to 5 PM (CST) or at contactus@hillspet.com.
Information can also be found at:
"My dog is worried about the economy because Alpo is up to $3.00 a can. That's almost $21.00 in dog money." Joe Weinstein