Unfortunately, pet food recalls are a regular fact of life these days. From mold and bacteria (like Salmonella), to toxic substances and actual objects in the food (like metal pieces), the list of contaminants is nearly endless. And while some may just cause an upset stomach, others may be life threatening!
There are three good web sites for current pet food recall information (as well as our list below): The FDA Recalls and Withdrawals site and Pet Food Industry.com, and Dogfoodadvisor.com (and all three allow you to sign up for recall alerts).
Find current dog food recall and cat food recall and withdrawal information posted from the FDA and petfoodindustry.com are below (the petfoodindustry.com list is an addition to the FDA list). We will try to keep this page updated regularly, but please let us know if you hear of anything not listed!
Current Pet Food Recalls and Withdrawals
Dave's Dog Food Recall of June 2018
June 12, 2018 — Dave's Pet Food of Agawam, MA, is voluntarily recalling a single lot of Dave's Dog Food 95% Premium Beef cans because the products potentially contain elevated levels of beef thyroid hormone.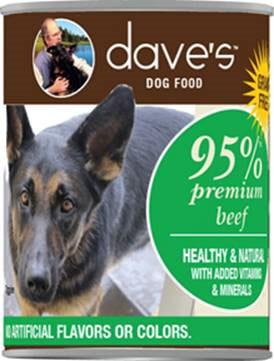 What's Recalled?
The recalled product consists of a single batch (548 cases) of 13 oz., 95% premium beef dog food with a UPC # of 85038-11167 and a date code of 08/2020.
Dave's Dog Food 95% Premium Beef
Size: 13-ounce cans
UPC Code: 85038-11167
Date Code: 08/2020
Where Was It Sold?
The affected product was distributed all along the east coast of the US, sold in pet stores and e-commerce sites.
What to Do?
Consumers who have purchased the specific product listed above should stop feeding it to their dogs.
If consumers have questions or would like to receive a refund or coupon for replacement product, they should call the company at 888-763-2738 Monday through Friday, 9:00 AM and 5:00 PM ET.
"My dog is worried about the economy because Alpo is up to $3.00 a can. That's almost $21.00 in dog money." Joe Weinstein